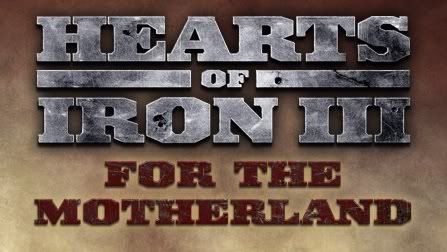 Update #2
Update #3
Update #4
Update #5
Update #6
Update #7
Update #10
So what is this?
Hearts of Iron 3 is a WW2 strategy game by Paradox Interactive where you can play as any nation that existed at the time. While the game is weighted towards historical events there is nothing preventing you from going off the rails and doing strange things. While there are economic aspects they are all minimal and designed to purely supplement the military aspect.
The scale of the game is large enough that the smallest military unit is the brigade, which is 3000 men for combat units (infantry, tanks) and 1000 for support (engineers, artillery). The map is divided into small 'provinces', which is where all combat, movement and building is resolved.
A couple of key terms:
Leadership
: Leadership is used to research technologies, exert diplomatic influence, conduct espionage and train military officers. All of these are important to some degree, and as such Leadership is the one of the most important stats. Each nation has a base value and while various things can increase it as the game goes on, for the most part your starting value will determine your overall strategy.
IC
: Industrial capacity, which is also extremely important. It is used to build, upgrade, reinforce and supply every military unit in the game. It can also be used to build more ICs, infrastructure (increases unit movement speed in a province) and various bases and research facilities.
Strength
and
Organization
: Military units have a number of attributes but these two are the most prominent in game play. Strength is equal to the men in a brigade (3000 for combat, 1000 for support). Organization is based on a units base Organization, modified by technology and other factors. If Org is reduced to 1, the unit is forced to retreat. If Strength is reduced low enough, the unit may shatter, forcing it back to the capital where it has to be reinforced essentially from scratch. In both cases, if a unit has no supply line, the unit will surrender, which eliminates it from the game entirely. Forcing units to surrender is the most effective way of eliminating them, as strength will replenish as long as the unit is in supply and the nation has manpower remaining.
There are a ton of other things but those will be explained as the game goes along.
For now, we move onto... nation choice!
A quick overview of the major nations:
UK
Pros: Huge empire, leader of the Allies, tons of resources, great technology, good Leadership and ICs, the strongest navy and a powerful air force, homeland is easily defended.
Cons: Small army, a lot of overseas territory to defend, as leader of the Allies you have more responsibilities than most factions.
Hail Brittania! Probably the most powerful of the Allied nations, the UK is practically invincible on the seas and is only rivalled in the air by the USA and the Germans. Like most western democracies, however, the UK is limited by peacetime restraints that vastly restrict her military abilities. As war looms closer, though, these penalties will shrink and eventually disappear.
Nazi Germany
Pros: Advanced and highly industrialized nation, leader of the Axis, great Leadership, low starting neutrality, and a mighty, fanatical army made even more powerful by their innovative usage of armor and combined arms. They do not start with the IC penalties that most other Europeans do.
Cons: Only decent resources which means they will have to conquer or trade to fully utilize their great ICs, few allies, and powerful enemies.
Score one for the bad guys! Germany is a fitting rival for the UK (and possibly Russia, if the historical route is followed), unrestrained by petty the concepts of sovereignty and international law. They are also one of the most interesting nations to play as, with an early war against Poland kicking off hostilities in Europe. However, they have few friends and a lot of border to defend.
France
Pros: Decent leadership and IC (nothing like the UK or Germany though), decent tech, good army and navy, Maginot line
Cons: Low unity, will take the brunt of the (bigger, faster, stronger) Nazi war machine head on, potential for being surrounded
Ah, France. The bastion of democracy in Europe. Unfortunately, they are in a bad position and will have to fight for their very existence against Hitler's goons. If that wasn't bad enough, if Nationalist Spain wins the Spanish Revolution, they might end up joining the Axis, forcing an already beleaguered France to fight a war on two opposite fronts, which is very, very bad.
USA
Pros: #1 in terms of leadership and IC, powerful (if outdated) navy, great industrial tech, unaligned to any faction in the beginning so there is a lot of room for variety (Axis USA, anyone?), isolated from conflict by two oceans, tons of time to build up.
Cons: Smallish army, high neutrality and isolation mean they will go a long time without seeing action.
America has the potential to be the strongest nation in the game. It's also boring as fuck for a long time. Don't choose this unless you want the first dozen updates consisting of me researching new techs and wondering what's happening in Europe.
USSR
Pros: Big as fuck, lots of resources, decent IC, terrain is shitty which means Germany will not have a fun time invading. Tons of manpower means that even though your troops are poorly equipped and trained, you'll have so many that it will hardly matter if tons of them die. Leader of the Comintern.
Cons: Poor leadership for it's size, mediocre tech, some punishing events like the Officer Purge, will probably have to fight Germany, Comintern has very few members.
The USSR has an interesting game ahead of it. The Winter War against Finland, a likely war against Germany later on, potential for expansion in Asia. This is offset by their relatively poor attributes as a nation.
Italy
and
Japan
Who gives a fuck?
In addition the major players, you can play as any other nation. However, if you suggest something stupid like Luxembourg I will ignore it.
The starting date will be January 1, 1936 (the earliest start date).
Personally, I would suggest France, Germany or the UK, but it's up to you guys (there won't be a poll since there will be a number of decisions like this).
So... who will it be?
Last edited by Lurch on Mon Sep 05, 2011 8:04 pm; edited 8 times in total